Daekyo is an education service group famous for its home education material 'Noonnoppi'. The group is conducting businesses in many fields such as early childhood education, publication for education, private education, home schooling and online education, and aims to become a global company that leads well-rounded education.
The Situation

Daekyo Noonnoppi Learning Center was planning to launch learning management application for students, 'Noonnoppi Sungjangpan'. The company wanted to build the service using AWS services, and wanted to implement efficient DevOps environment by automating processes such as application deployment.
To the Cloud

Bespin Global suggested using AWS CloudFront, to build a service that can accommodate large traffic. It used S3 and CloudFront in combination to provide CDN, from which users can receive contents from the nearest edge location. It also used S3 Event, Lambda and SQS to automate the CloudFront Invalidation, the process of deleting cache in edge locations.
Bespin Global centralized the storage of application log with CloudWatch Log Agent. It also used Kinesis, S3 and AWS Athena to implement real-time big data storage and processing. Because one instance was launching multiple WAS instances, it used AWS Lambda to establish secure Blue/Green deployment.
Product

CloudFront/EC2/AutoscalingGroup/ElastiCache/RDS/Lambda/SQS/ETC
Architecture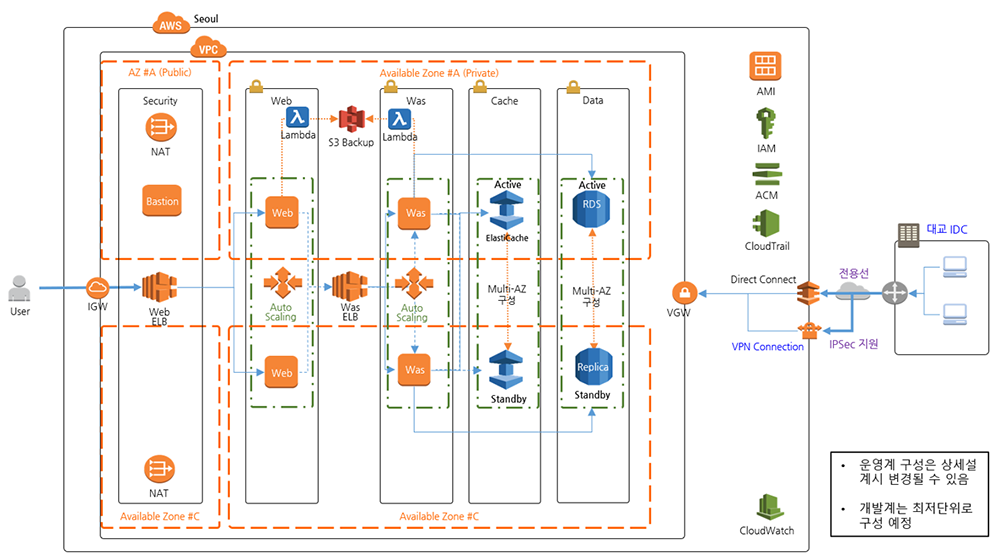 *The diagram is provided for better understanding, and can be different from the actual architecture.
After BespinGlobal
– Daekyo established Application log collecting process on Auto Scaling environment using CloudWatch Log Agent
– Daekyo established invalidation automation process for static resource by using S3 Bucket Event attached to CloudFront and Lambda Function in combination.
– Daekyo was able to monitor detailed deployment process by deploying with Lambda.
Next Step

Daekyo successfully launched a customer-facing service leveraging cloud functions, and now plans to operate ERP & E-HR system on cloud.