Hyundai Department Store operates 15 department stores and 6 outlet stores nationwide, leading the shopping culture in local communities. It is stepping up as a "total living culture enterprise" with its businesses in duty free shops, home-shopping, Hyundai Green Food, Hyundai Livart, and Dream Tour.
The Situation

Integrating the group's services, Hyundai Department Store launched "H.Point" in August 2017. It intended to establish analysis platforms based on integrated membership, improve customer experience and maximize the synergy effects between affiliates. Due to the characteristics of its membership, the company needed a system that could respond flexibly to data and marketing analysis requests. However, it was difficult to purchase, manage and operate dedicated equipment, due to the lack of personnel dedicated to IT. In particular, excessive initial investment would occur if the company purchased the equipment 4~5 years in advance. So the company considered a cloud service where storage can be secured and expanded when necessary.
The Result

The company utilized Amazon Redshift, the Managed Data Warehouse service AWS for its easily expandable structure, fast performance, management point minimization through managed services, and the possession of multiple servers for selection. For approximately 7 months we structured a data warehouse based on AWS, and officially started management from January 2019. We had an internal review of the total expense required for the next 5 years and concluded that the cost can be reduced by 30% or more compared to on-premise methods. Bespin Global is supporting the implementation and management of the data warehouse.
Architecture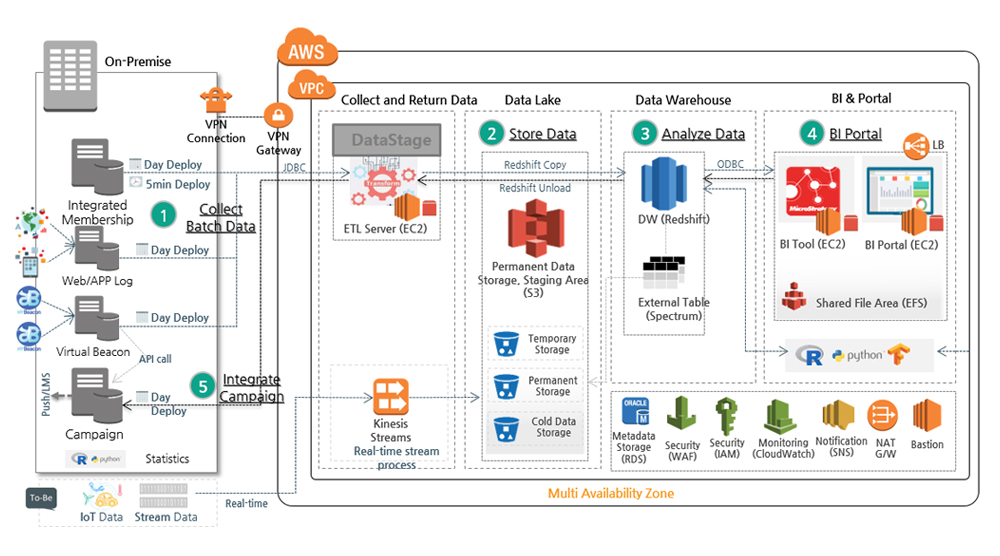 *The diagram is provided for better understanding, and can be different from the actual architecture.
Next Step

Hyundai Department Store is considering utilizing Amazon Kinesis and AWS Lambda for marketing integrating location information, and is reviewing Amazon SageMaker for personalized customization service.
Also, the company is expected to utilize big data, artificial intelligence (AI) and advanced analysis for their marketing. Gyumo Oh, the general manager of the IT&E business department of Hyundai Department Store, said that "the application, support and fundamental technologies of AWS performed beyond expectation, and whenever we're planning a new business we will adopt a cloud-centered stragety and approach."