G Suite is a business product in the Google Cloud that packages Google's diverse products and features for corporate communications so you can ensure business continuity on your computer, mobile phone, or tablet.
Bespin Global is a premier partner and certified training partner of the Google Cloud Platform, with engineers that have experience in the cloud, providing professional training and consulting for your company's successful G Suite.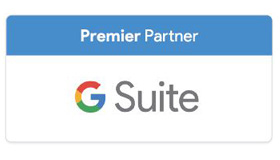 G Suite customer case – Toss Lab, Inc.
Bespin Global's Offerings for Better G Suite Experience

G Suite Training and Consulting
Customers can successfully adopt G Suite and receive training and consulting from highly experienced and competent engineers from Bespin Global.

All the Productivity Tools You Need
G Suite provides every feature business needs in one package, from email to file sharing system. Access anywhere from PC, mobile phone, or tablet.

Select a Plan based on Business Scale
There are three pricing plans for G Suite: Basic, Business, and Enterprise, starting at $5 per user. You can choose from a range of options based on your business scale and business needs.

We receive regular reviews from third party organizations and adhere to strict security standards. We provide basic and necessary tools for data ownership, use, security, transparency and accountability.
G Suite consists of four major themes, with collaboration and productivity tools provided in each theme.

Hangout MeetingEasy to join video conferencing

Hangout ChattingSecure team messenger.

CalendarOnline calendar designed for teams

GmailIntelligent, reliable email for modern business.

Google+Secure social network for enterprises.

DocumentThis document features real-time co-editing

SpreadsheetSmart and fast online spreadsheet.

PresentationA great presentation to create together.

SurveyEasy to create surveys and forms.

Site ToolEasily implement team sites.

KeepCapture and organize ideas.

DriveSecure cloud storage and file sharing services.

Cloud SearchProvides powerful search features across G Suite.

ManageManage G Suite for your organization.

VaultPerform archive and digital evidence retrieval for emails, files, and chats.

Manage Mobile DeviceManage mobile for Android, OS, Windows, etc.