ICP License Offering in China
중국 ICP 서비스
We'll Help You to Get Into the Market With Our Insight of Businesses in China.
ICP System Requirements For Online Businesses in China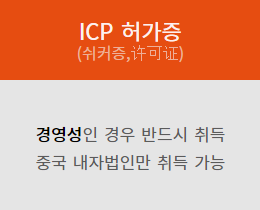 Non-commercial : Provides public and sharable information services for free.
Commercial : Offers services such as internet information and internet site production at an additional charge.
※ Certain online businesses require additional licenses in related sectors (e.g. Game – Internet cultural business permit)
Anyone running a Chinese corporation can apply for ICP Bei'an, but in the case of commercial online businesses, only a Chinese-funded corporation can apply for ICP license.
In other words, foreign-funded corporations cannot acquire an ICP license.
Therefore, we recommend that prospective companies use an ICP license indirectly through a Chinese-funded corporation with an ICP license, or directly by acquiring a Chinese-funded corporation with ICP license.

Bespin Global's ICP License Services
Bespin Global provides safe and swift rental/filing services for ICP Bei'an through Bespin China, registered Chinese company, and local partnerships.
Bronze Grade
Silver Grade
Gold Grade
For
Non-commercial corporation
Small business and start-up
Enterprise
Basic Services

URL purchase
ICP Bei'an registration

URL purchase
ICP license rental
Domain registration within the confines of ICP license

URL purchase
ICP license rental of an outstanding data center in China
Domain registration within the confines of ICP Bei'an and ICP license
Indirect possession for remittance and financial affairs

Additional

Conversion into Chinese webpage
Marketing in China
General service operation




Conversion into Chinese webpage
Marketing in China
General service operation
Provision of a payment system

Conversion into Chinese webpage
Marketing in China
General service operation
Provision of a payment system
Customer service

Basic Service Cost

URL purchase fee
Agency fee + 20%

URL purchase fee
ICP license rental fee
Agency fee + 20%

URL purchase fee
Consulting fee
ICP license rental fee
Agency fee + 20%

Additional Service Cost

Conversion into Chinese
webpage (actual expense)
CS, marketing, and overall operation fee to be determined upon discussion

Conversion into Chinese webpage (actual expense)
CS, marketing, and overall operation fee to be determined upon discussion
8,000 Yuan each for any additional payment system




Conversion into Chinese webpage (actual expense)
CS, marketing, and overall operation fee to be determined upon discussion
8,000 Yuan each for any additional payment system (i.e. WeChat Pay)