OpsNow ITG BSM
IT Governance Business Service Monitoring
OpsNow ITG BSM is a platform that supports automated collection and analysis for measurement of information system performance of administrative and public institutions
Automated Diagnostic Platform
Diagnoses information system operation performance of administrative and public institutions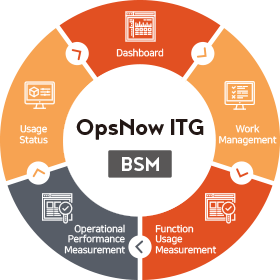 Enables users to grasp the entire information resource in a single pane by providing a block unit dashboard for each resource

Provides usage status measurement data, such as usage rate of detailed functions of a system

Calculates the usage frequency according to the measured usage status data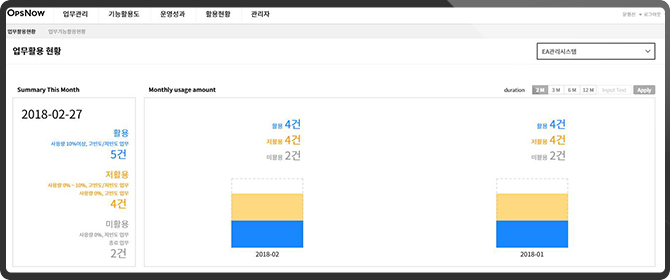 Government Institutions Are Now Legally Obligated to Measure the Performance of Information System Operation.

In accordance with the guideline for performance management for e-government information system operation, this solution supports performance diagnosis of the administrative and the public institution's information system operation as an automated platform.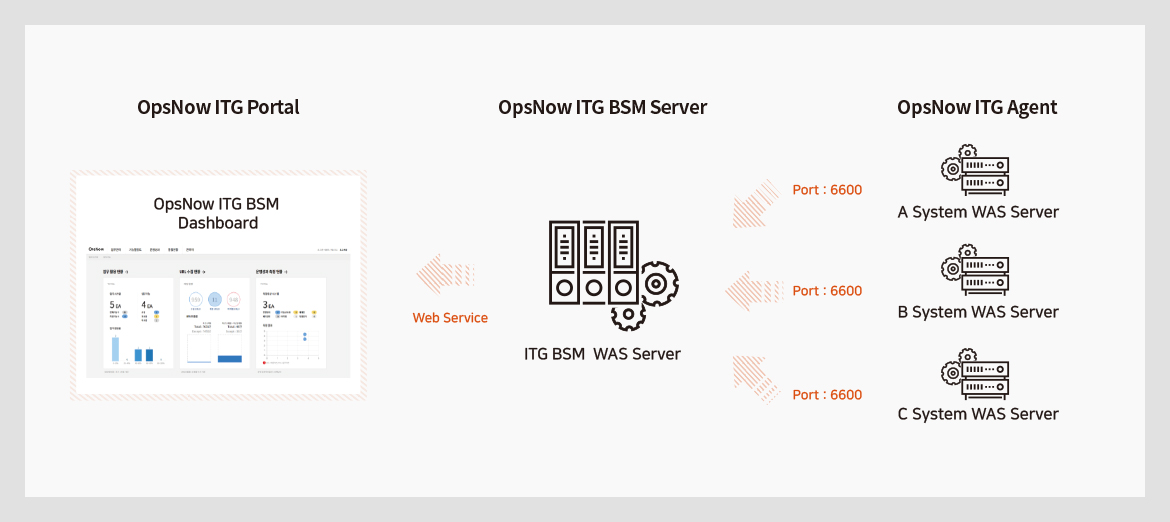 1. Legal Basis

Management Guidelines for
Information System Operational Performance
(2017.3)

Establishing the standards and procedures to be followed in determining the feasibility of the operation of the organization's information system by the head of administrative institution pursuant to Article 45 (3) and (4) of the 「Electronic Government Act」(First established in Dec. of 2012)
2. Subjects of Application

Information system of administrative and public institutions that has been more than 3 years old as defined in Article 2 of Electronic Government Act

Organizations subject to measurement of information system operation performance (2017)
– Central administrative agency and affiliated organizations (52)
– Local government institutions (245)
– Public institutions (232)
Number of information systems for measurement of operational performance (Year 2017)
– 4,360
3. Application of Result
Evaluation of management competency

In evaluation of management competency and competent electronic government implementation, the results are reflected in the 'Implementation of informatization project and performance management (3 points)'
Key Features of OpsNow ITG BSM
A platform dedicated to diagnosing function utilization of public institutions.
Supports both install and cloud type, and provides easy installation and easy management environment.
OpsNow ITG BSM's Area of Application
OpsNow ITG BSM is used throughout the maintenance and operation of information systems in public institutions.
Get Started With OpsNow ITG BSM Today.