Blockchain Cloud
블록체인 클라우드

Blocko Coinstack and Bespin Global provide a full-stack solution, from the infrastructure needed to build a blockchain network, to application development and operation.

Encryption, storage, authentication of personal information
(e.g. FIDO, biometric, SSO, Oauth, etc.)

Time stamp, authentication & management of electronic documents

Device identification, authentication and control solution for smart contract-based IoT environment

Smart contract consolidation for setting, managing and executing business rules

Intermediate platforms for a variety of assets including stocks, real estate, virtual money, and energy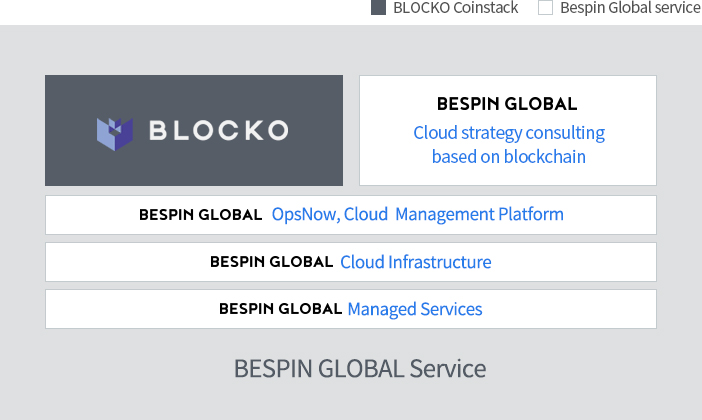 Private blockchain, which enhances functionality and performance as a universal distributed ledger of enterprise environment based on Bitcoin Blockchain (BTCD)

Distributed database, data analysis solution with DLT-based distributed file system

Personal authentication (FIDO, biometric authentication, OAuth, etc.), electronic document authentication and certificates management/security solution

Smart Contract-based device identification, authentication and control solution for establishment of IoT environment

Intermediate platform for registration and trading of various assets such as stocks, virtual money, real estate, and energy.

Ethereum Smart contract integrated for setting, managing and executing business rules

Digital voting solution with Smart Contract function ensures transparency of secret ballot and its counting

A SCM solution that provides the functions of production, processing, distribution and traceability (PLM) of goods
Coinstack Architecture
Blocko's Coinstack is the basis for building robust and reliable blockchain services.
Creates and searches blocks and transactions, validates and records data for smart contracts.
2. Coinstack (Service Layer)
Verifies the generated blocks and transactions and performs the algorithm of agreement.
3. Blockchain Ledger Data (Data Layer)
Stores data and business logic implemented in a blockchain in a distributed ledger.