Bespin Global and Penta Security provides you with a safer Cloud Environment.
The three elements of Information Security, Encryption, Web Security and Authentication Security are important in the Cloud.
Many companies are still concerned about the security issues regarding their Cloud adoption.
With Bespin Global and Penta Security, your worries about Cloud security are no longer a concern.

In addition to the complimentary security system of a Cloud provider, Bespin Global improves
customers' Cloud security level with Web, Data and Authentication Security Technology
provided by Penta Security. In addition, Bespin Global provides a stable business environment to operate on.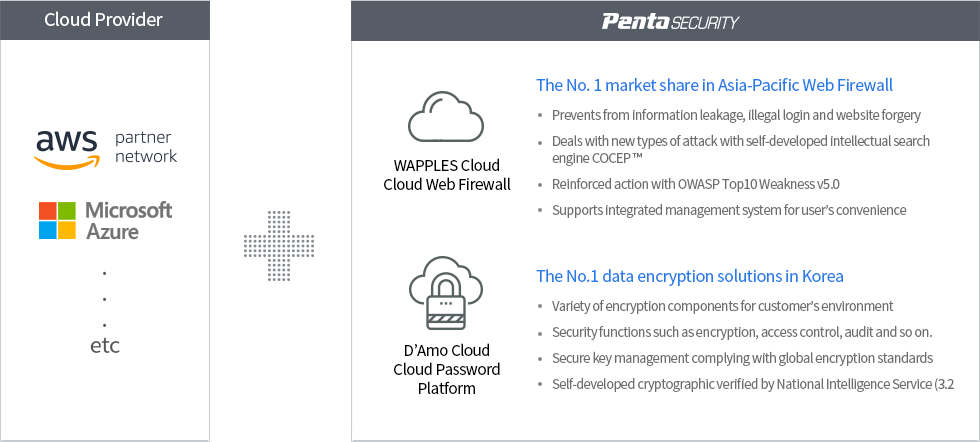 Cloud Security Migration Services
Previously, customers had to build an on-premises type security solutions on their own.
In a Cloud environment, it can be built easily and quickly by through managed services.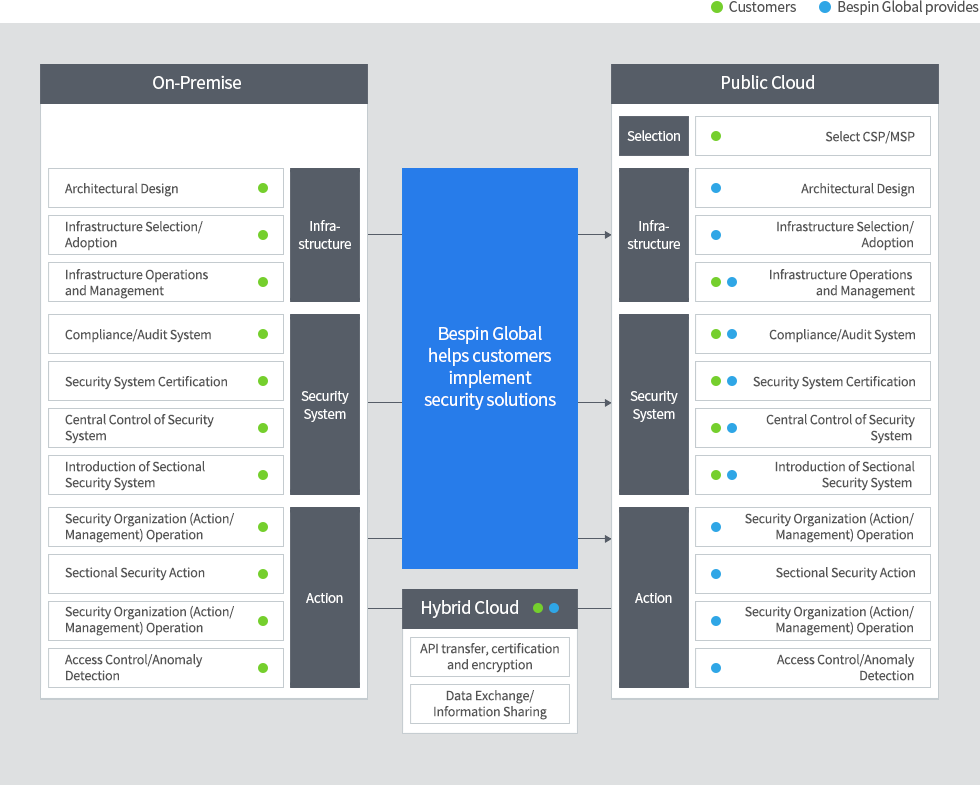 If you are interested in a secure Cloud environment of Bespin Global and Penta Security, please inquire today.

Manage your cloud environment 24/7/365, with Bespin Global and  AhnLab.
Cloud security is a shared responsibility of cloud users and public cloud providers.
Bespin Global and AhnLab are responsible for ensuring the security of areas that are not covered by public cloud providers.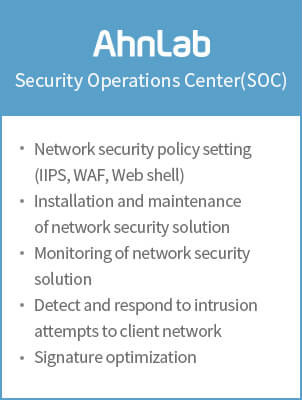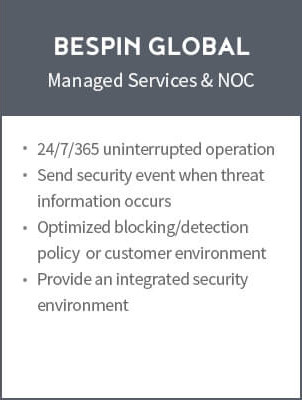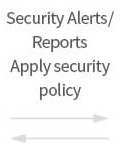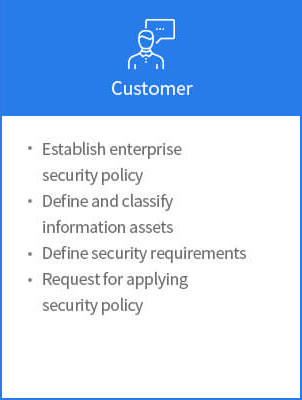 Basic services such as computing, storage and database
Network, CDN infrastructure
Components and Scope of Security Control Service
Controlled Subjects
Cloud

I(D)PS


Network-wide detection
(L3 to L7 layers)

WAF


Optimized for web attacks
(L7 layers)

Web Shell


Service specialized for Web Shell detection
Analysis



Collecting / Analyzing using ESM


Processing SOC Ticket


Providing portal reports



Scope of Work
Detection of Intrusion Attempts
Response to Infringement Incident
Information Activities
Signature Optimization
Intrusion Prevention



24/7 security control support


Event monitoring for security devices


Intrusion attempt analysis and response service


History management





24/7 immediate support by personnel


Identify the cause and analyze the infringement path


Systematic response





Provide regular security trends and infringement case information


Provide advanced security content information such as Zero Day vulnerability





Optimize intrusion prevention system signatures for customer's system environment





Analyze various threat information


Open Port inspection in outsiders' perspective



Bespin Global and Trend Micro, a leading provider of server security, have joined to better protect the integrated cloud environment.
Optimized protection for public or hybrid cloud environments not only improves security, but also reduces complexity in management and operation of Bespin Global's 24/7/365 managed services. Closely integrated modules make it easy to extend the platform to ensure the security of servers, applications, and data across the cloud and hybrid environments.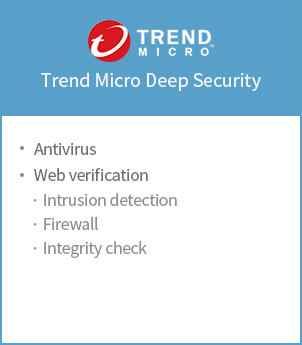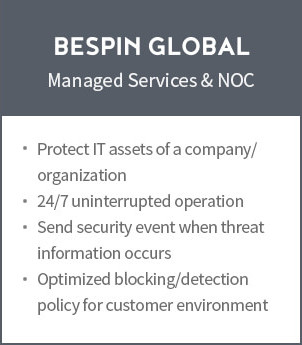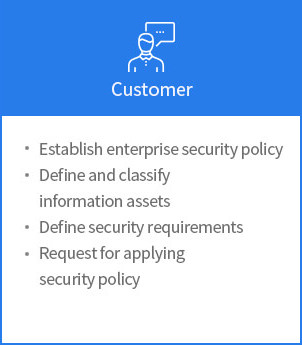 Cloud and Hybrid Integrated Infrastructure
Cloud and Hybrid Integrated Infrastructure
Deep Security Features
The cloud ensures flexibility, scalability,
and manageability of host-based security
Criteria
Network-based
Host(SW)-based (Deep Security)
Configuration Method
Hardware Appliance (Inline / Tap)
Software Agent (Inline / Tap)
Inter-VM Web traffic
Monitoring/Detection/Blocking
Impossible
Possible
VM Vulnerability Scan
Impossible
Provides web, OS vulnerability scanning capabilities for each VM
Virtual Patching
Impossible
Provides web, OS vulnerabilities virtual patching capabilities for each VM
Integrated Management
Integrated management of multiple equipment types
Provides server and application visibility with equipment and VM integrated security management
Custom Tool Settings
Same policy on all servers
Customized settings based on server usage, OS, and app
Performance
Analyze traffic at the network layer and apply the detection tools included in all servers to create performance issues
Optimize performance by applying distributed analysis and essential detection tools to each server layer traffic
Impact of False Positives
May occur on all servers if a false positive occurs
Even if a false positive occurs it occurs on only the server that has been applied
Failure Response
Influences all traffic if a security function failure occurs
Only the affected server will be handled, not affecting other servers
Auto Scaling
Impossible or limited quantity
Unlimited scalability
Antivirus
Provides agentless or agent-based options, which integrate with VMware and other virtual environments.
Web Verification
Increases security for web threats on servers and virtual desktops.
Protects users and applications by blocking access to malicious URLs with the utilization of web verification feature of Trend Micro's cloud security center (SPN).
Intrusion Detection (IPS)
Protects against known vulnerabilities until a patch for exploit is applied.




Protects servers and applications from attacks that inject ransomware via exploit which make use of known software vulnerabilities and network attacks on infected users' file servers.


Detects and blocks C&C communication indicating attacks such as ransomware.


Provides timely protection against known and zero-day attacks.


Uses vulnerability rules to protect known vulnerabilities from exploit – e.g. Microsoft's monthly release of vulnerability reports


Provides ready-to-use vulnerability protection for over 100 applications, including database, web, email, and FTP servers.


Provides rules that automatically block newly discovered vulnerabilities such as Shellshock and Heartbleed in a matter of hours and can be pushed to thousands of servers without rebooting the system.


Improves visibility or control of applications that access the network. Detects malicious software accessing the network and reduces vulnerability exposure of server.



Firewall
Reduces exposure of physical and virtual servers to attacks.




Server firewall policies are centrally managed using bi-directional stateful firewalls.


Supports virtual machine zoning and blocks DoS attacks.


Broadly supports detailed filtering of all IP based protocols, frame types, ports, IP and MAC addresses.



Integrity Check
Detects and reports in real time when a file or system experiences malicious or unexpected changes.




Detects suspicious behavior of malicious software such as ransomware accessing data center (e.g. from user to file server). Deep Security detects and stops suspicious activities and reports notifications about security issues.


Monitors application files and key operating systems such as directories, registry keys and values ​​to detect and report malicious or unexpected changes in real time.


Enhances the security of virtual machines without taking up additional space through the agentless method.


Protects your hypervisor from exploits with innovative hypervisor integrity check technology.


Reduced administrative effort with reliable event tags which automatically replicate activity for the same event throughout the data center.