Cloud Migration
클라우드 마이그레이션
Successful, Systematic and Stable Migration Based on Methodology and Best Practices Through Years of Experience and Know-How.

A case study of a corporate-affiliate resort that has successfully transferred 18 workloads in only six months.

Recommend optimal cost and operational efficiency based on customer requirements
Stable and accurate project execution ability based on years of experience in Real IDC operations and data center transfer projects
Provides various manuals from infrastructure configuration to service operation

Application Migration
We analyze your requirements, environment, and goals among five migration methodologies, and recommend the most optimal migration method.
Rehost
Can be used to perform large-scale migration quickly and save about 30% in cost using the 'Lift and Shift' method, without redesigning the application.
Refactoring, Revising
Migrations that require transferring to a new platform by adjusting some parts without changing the core structure of the application. Example of a case of a global media company transferring hundreds of web servers operated on-premise to the Cloud. In this case, WebLogic (a Java application container) was transferred to the open source Apach Tomcat, saving over 1 million dollars in licensing costs.
Rebuilding
Redesigning the application to Cloud-native which is a Cloud-optimized structure. Suitable for companies that require scalability, business continuity, and flexibility, such as server-less architectures and e-commerce. There is some time needed to redesign, but the effort compared to business impact is sizable.
Replacing
Replacing an existing application with a SaaS application.
Example of a case of replacing a CRM operated in on-premise with a SaaS CRM, such as Salesforce.com.
DB Migration Service
Worried about transferring your database to the cloud?
Bespin Global's expert DBA team will design a database for your business environment and migrate your database optimized for performance and TCO.

Establishing a DB Migration Strategy in an AWS Cloud Environment
1. Designing a Database That Fits the Service
Many businesses are operating for tasks that are not OLTPs with relational databases (RDBs), and often worry about the rising costs and limited flexibility. Bespin Global's DBA team analyzes your business needs and objectives and designs a database optimized for your environment.
| | | | |
| --- | --- | --- | --- |
| Business | OLTP | OLAP | Big Data |
| Requirement \ DP Type | RDB | DW | NoSQL |
| Consistency, Transaction | Strict required | Not required | Not required |
| Performance | High | Mass Processing | Ultra-high |
| Concurrency | High | Low-mid | Ultra-high |
| Durability | Ultra-high | Mid | Mid |
2. Database Support For All, From IaaS to PaaS
We provide a database environment optimized to your needs after considering the advantages and disadvantages of each criteria. When operating a database in an IaaS environment, customers have the choice to make decisions, but maintenance such as patch upgrades is still the customer's responsibility. On the other hand, in a PaaS environment, database operation, installation, and backup are provided in the cloud, which is convenient, but there are restrictions that greatly reduce the customer's flexibility. Application optimization is something unavailable in both. Bespin Global's DBA team designs and provides all aspects of the database from selection of database operating environment to installation, operation, and application optimization, tailored to the customer's environment.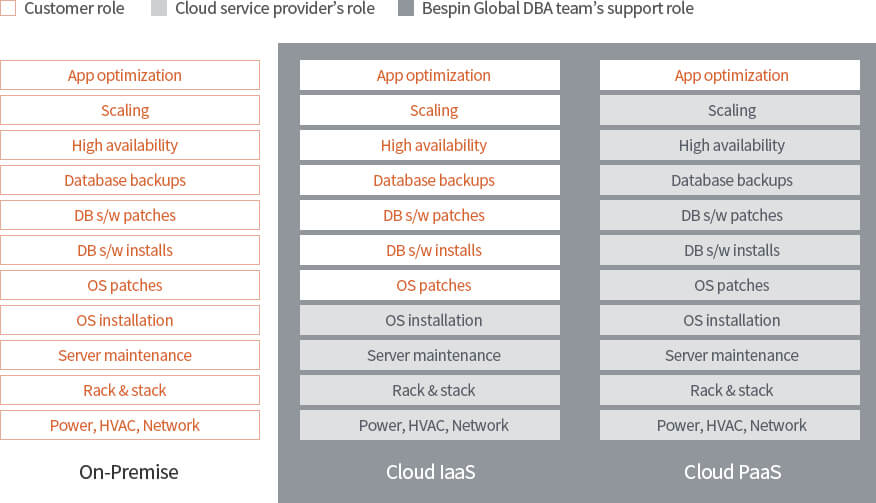 3. Open Source Database Support
When transferring commercial databases to an open source database, you can significantly reduce the cost of license purchases and upgrades while maintaining or improving performance. However, due to maintenance risks, many companies hesitate to transfer to open source. Bespin Global's professional DBA team helps customers enjoy the benefits of open source databases through maintenance support.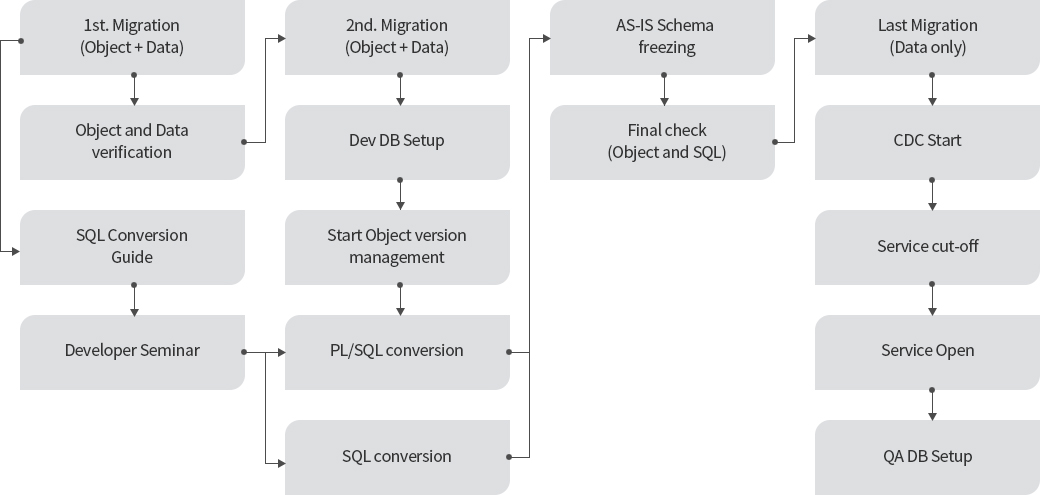 Successful Cases of Cloud Migration