Do you want to see the status of your mobile applications and user behavior analysis at a glance?
Bespin Global accelerates the growth of your apps by analyzing mobile applications running in the cloud.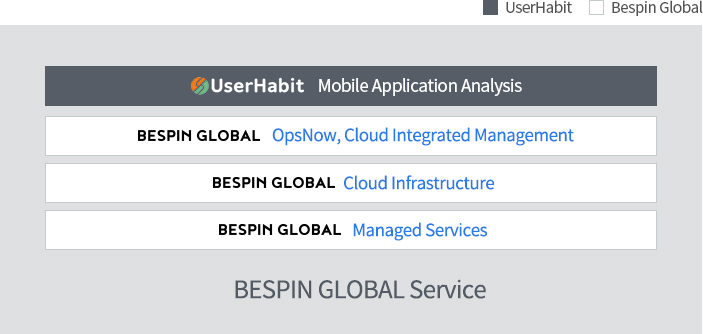 UserHabit Features
UserHabit for Quick and Easy Analysis

Simple Installation Process
By minimizing code insertion for installation, and inserting only one line of code without defining the event, you can start the analysis effortlessly.

Unlike other solutions that use video recording, it is operated with less than 1KB of data thus has less burden on app performance.

Comprehensive UX Data Collection
By classifying the type of action it even recognizes the unresponsive actions, and collects all the actions of users within the app, providing comprehensive UX data.

Easy and Intuitive Analysis Reports
It provides visual information such as heatmap, usage flow chart, and replay along with actual screen, so anyone can easily analyze it intuitively.

Heatmap & User Touch Analysis
You can easily see the user's touch action information on screen in the form of a heatmap.

Key Metrics for UX Analysis
You can see the key metrics that can help you understand user behavior within the app.

User-defined In-depth Filter
Specialized user filters are used to help you quickly find a specific customer group.

Analysis of Major Usage Flow
Specialized user filters are used to help you quickly find a specific customer group.

Interval Analysis to Target Screen
You can see the user's usage pattern from a specific screen to the target screen of the app for a detailed analysis of the section.

Detailed Analysis of Individual Path
It provides an analysis of how often the path is used between screens and how they move.

You can reproduce the process of how a specific user uses the app and observe it in detail in the form of a video.

It is easy to reproduce crashes and provides a log of the corresponding crashes to enable quick troubleshooting.