Using SaaS-based digital operations monitoring and analysis solutions of CA Digital Experience Insights, Bespin Global offers integrated monitoring and analysis services, which provide a comprehensive view of user experience, business transactions, and digital infrastructure.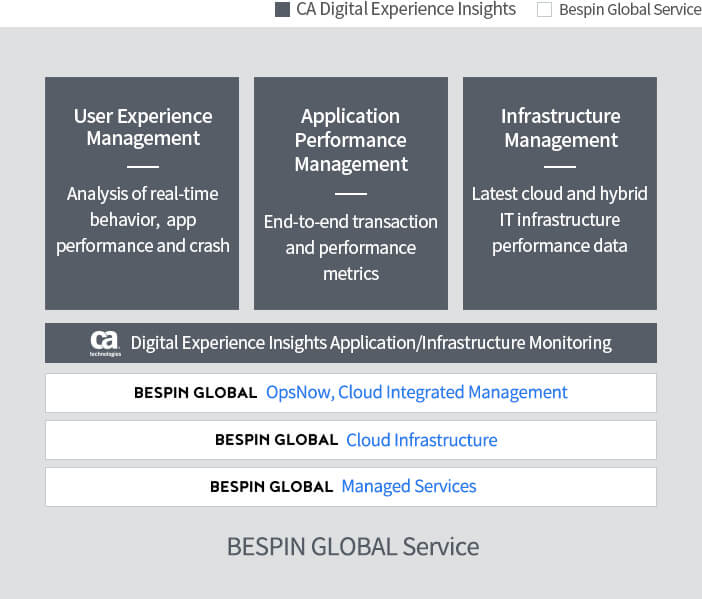 CA Digital Experience Insights Features
Based on a flexible open SaaS analytic foundation, which uniquely combines user behavior with operational performance, it provides an intuitive report, which helps you understand your entire digital environment. This insight can help you optimize the users' path, helping you retain and acquire new customers, increase sales, shorten troubleshooting time, increase development productivity, and accelerate innovation.
---
APM (Application Performance Management)
APM supports in-depth analysis from click to code with up-to-date analytics, so DevOps teams joined by multiple departments can gain insights to quickly resolve application issues and identify opportunities for improvement. It also reduces complexity through automated application discovery and baseline setup, dynamic team dashboards, and derived workflows to ensure that all digital interactions deliver the best value to customers.
---
Infrastructure Management
Supports a single analytically focused solution that efficiently and proactively manages the latest cloud and hybrid IT infrastructures. Organizations can leverage infrastructure management capabilities to improve average end-user experience by reducing average repair time, reducing manual monitoring, and shortening time for new deployment.
CA Digital Experience Insights Benefits

Standardize data and analyze correlations to identify actual problems in the context of user's own roles and functions, diagnose problems, and quickly diagnose conditions that affect user environment

Apply optimal mathematics and intelligence to identify patterns, trends, and anomalies to predict when the problems will occur

Improved efficiency through better design, better code, and improved resource utilization, and prescribe an improvement plan based on insights that have a positive impact on customer experience